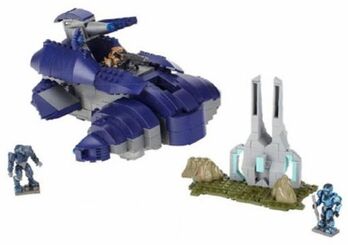 Type-26 Assault Gun Carriage

Artillery Assault Tank

MSR Price

$36.99

Pieces

459

Mini-Figures

1 orange Hayabusa Spartan II
1 Elite Ultra

Weapons

1 Energy Sword
1 Katana
1 Gauss Cannon

Vehicles

Wraith

Item Number

96832

Release Year

2010
The Wraith is a hovering mortar tank, the equivalent to the UNSC Scorpion, utilized by the Covenant Empire. It features a rotating Plasma turret and a short speed boost. Its "wings" extending from each side can be used to ram enemy troops at high speeds. There is a new improved version of the wraith released in 2012 it comes with a golden combat elite, golden spec ops elite and a green EOD spartan it also features a forerunner structure and numerous new weapons.
From Manufacturer
Establish your army, build and expand your units with the Halo Covenant Wraith playset by Mega Bloks! Build and recreate epic battle scenes between the UNSC and the Covenant with this authentic buildable vehicle! The Wraith is the Covenant's main heavy assault tank for ground engagements. It has a retractable plasma mortar cannon whose destructive power can wipe out practically any armored or infantry target imaginable. A UNSC Orange Hayabusa Spartan-II attempts to eliminate the Wraith with its arctic gauss turret but the Wraith's uniquely shaped châssis is able to deflect even the heaviest frontal attacks. Even to the mighty UNSC Spartans, the Wraith is a truly dangerous foe to overcome.
Features
Buildable assault gun carriage and UNSC turret
Retracting Plasma Mortar with open-and-close deployment hatch
1 UNSC Arctic Field Gauss Turret
1 Covenant Elite Ultra with Energy Sword
1 UNSC Orange Hayabusa Spartan with clip and Katana sword
---
Photos
In Game Use
Video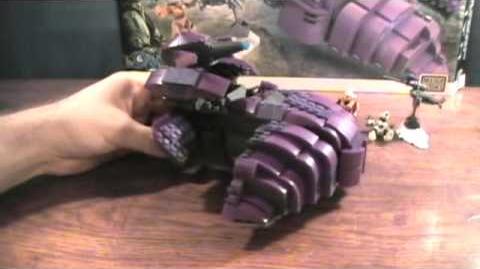 ---