M12A1 Light Anti-Armor Vehicle



MSR Price

$24.99

Pieces

222

Mini-Figures

2 white Mark IV Spartan II
1 Elite Minor

Weapons

2 Pistols
1 Energy Sword

Vehicles

Rockethog
Ghost

Item Number

96805

Release Year

Early 2010
The Rockethog is similar to the Warthog except the chain-gun is replaced by a rocket launcher, as the name suggests. It is also in snow camouflage. It is based on the Halo: Combat Evolved Rockethog.
---
From Manufacturer
The M12A1 or "Rockethog," is an upgrade of the standard UNSC M12 Warthog. Equipped with a 102mm SC-HE Rocket Turret, the Rockethog's offensive firepower is increased exponentially. The arctic variant of the Rockethog is also equipped with region specific camouflage for sub-zero maneuvers against enemy targets. Beware Covenant Elites, your Ghosts will be feeling the bite of this winter Warthog! Ideal for children ages 8 and up!
Features
Buildable UNSC Light Anti-Armor Vehicle and Covenant Rapid Assault Vehicle with 222 pieces
All-new arctic white blocks for sub-zero camouflage
4 real-working detailed wheels and treads
New and improved Covenant Ghost design for a faster and more sturdy build
Includes 2 UNSC white Spartan-II soldiers with M6D pistols
Includes 1 Covenant Elite with plasma energy sword
Photos
Videos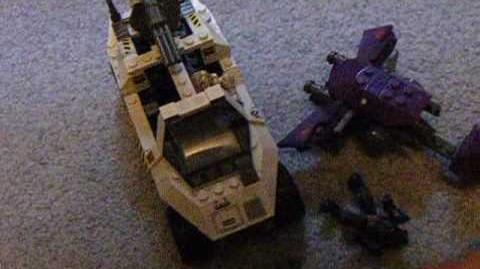 ---