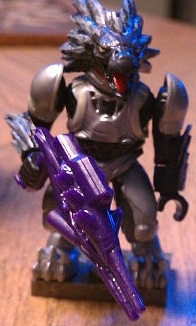 Hi, my name is Abner and I am interested in Halo Mega Bloks because of the minifigures and how they have so much more articulation compared to the Lego people. I don't really care much about the bricks because they don't stick together as well as Legos, although Mega Bloks has made them alot better recently. I am only interested in them if the pieces are really good and are unique. I like pieces that are strong and have a good look to them.
Jediknightanakin1114 23:17, January 18, 2012 (UTC)
My Favorite Covenant Species
Skirmisher
Hunter
Jackal
Elite
Brute
Grunt
Prophet
I hope that Mega Bloks makes sets with the other covenant species like the drones or engineers. I would also like to see more Pure Flood Forms. That would be nice. I did like the Sentinels and Enforcers that they included in the Battlescape III.
My Mega Bloks Halo Sets
96949 Covenant Shade Turret
96937 EVA's Last Stand
96932 Covenant Drop Pod: Combat Elite
96828 Covenant Combat Unit
96849 UNSC Mongoose
96916 Covenant Strike
96933 Covenant Drop Pod: Zealot Elite
96981 UNSC Spade VS. Skirmisher
96947 Covenant Weapons Pack
96951 UNSC Armory Pack
96928 Covenant Drop Dod: Elite Ultra
97043 Versus: Snowbound Weapons Pack 2
96929 Flood Pod: Elite Combat Form
96993 Brute Chieftain Charge
96997 Covenant Armory Pack 2
96941 Covenant Phantom
97118 Cauldron Clash
97419 Metallic Green ODST Drop Pod
97065 Versus: Snowbound Combat Unit
97088 UNSC Cryo Bay
A bunch of Series 2, 3, 4, 5, 6, 7, & 8 minifigures
Other Loose Minifigures
All My Minifgures
Covenant
9 Brutes (5 Purple, 1 Copper, & 1 Blue Jump Pack, 1 Red Chieftain, & 1 Red Jump Pack)
17 Elites (3 Purple, 2 Blue, 1 Active Camo, 1 Yellow Pilot, 1 Golden Combat Zealot, & 1 Combat Ultra, 1 Crimson Combat, 1 Snowbound Blue Combat, 1 Snowbound Red Combat, 1 Silver Ultra/Ascetic, 1 Yellow Commando, 1 Cyan Combat, 1 White Pilot, & 1 Silver Arbiter)
4 Hunters (2 Blue, 1 Purple, & 1 Golden)
11 Grunts (4 Copper, 3 Purple, 1 Orange Spec Ops, 1 Golden, & 2 White Ultras)
1 Skirmisher (1 Silver)
4 Jackals (3 Blue Shield, & 1 Red Shield)
UNSC
3 Spartan II's (1 Green, 1 Cyan, 1 Snowbound Blue)
1 Spartan IV (1 Green Master Chief)
5 Marines (2 Desert Tan, 1 Seafoam Green, 1 Blue Communications Expert, & 1 Green and Tan)
2 CQB Spartans (1 Cyan, 1 Snowbound Red)
1 Hayabusa (1 Pink)
1 EVA (1 Green)
1 Air Assault Spartan (1 Green)
2 Grenadier Spartans (1 Gold, & 1 Red)
1 EOD Spartan (1 Desert Tan)
3 ODST (1 Grey, 1 Metallic Green, & 1 Active Camo)
1 Soldier Spartan (1 Green)
​AIs
1 Cortana (1 Blue Micro Version) 
Flood
2 Elite Combat Forms (1 Purple, & 1 Blue)
2 Infection Forms (2 Tan)
​Promethean
4 Crawlers (2 Orange, 2 Blue)
2 Watchers (1 Orange, 1 Blue)
1 Knight (1 Orange)
Pictures