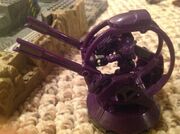 Type-26/Type-27/Type-29 Anti-Infantry Stationary Gun



MSR Price

Varies

Pieces

64

Figures

1 Copper Spec-ops Grunt
1 Green Air Assault Spartan III

Weapons

1 Assault Rifle
2 Frag Grenades
1 Plasma Pistol

Vehicles

Covenant Shade Turret

Item Number

96949

Release Year

2012
The Shade is a type of Covenant turret. It is not mobile like the Plasma Cannon but despite this, the gunner gets more protection. It is mostly used by Grunts, but Elites and Brutes also use them too. There are several different Shade models, which are all unique variations of each other, few games keeping a similar model. A set containing the Halo 3/Reach design has been released in the USA and Europe.
In the Mega Bloks universe there are many versions including some non-canon Shade turrets. Also as of 2013 there are only two turrets that actually resemble in game turrets: One Halo 3 version released in 2011, and one based on Halo: CE version, that comes in the 2013 UNSC Cobra set.
In Game Use
---
Community content is available under
CC-BY-SA
unless otherwise noted.