Type-52 Troop Carrier




MSR Price

$79.99

Pieces

906

Mini-Figures

1 silver Arbiter (Ripa Morramee)
1 white Flight Elite
2 Grunt Ultras

Weapons

1 Energy Sword
1 Plasma Pistol
5 Plasma Grenades
2 Plasma Cannons

Vehicles

Phantom

Item Number

96941

Release Year

Fall 2011
The Covenant Phantom or Type-52 Troop Carrier is the main Covenant Troop carrier and is armed and can carry multiple lances of troops into combat.
Product Description
Establish your army, build and expand your units with the Halo Covenant Phantom by Mega Bloks! An Elite Pilot maneuvers a Covenant Phantom into action—providing heavy cover fire from its three rotating plasma cannons, as it delivers a deadly Elite Arbiter and two Ultra Grunts to the battlefield, tipping the scales against their UNSC foes.
Ideal for children ages 8 and up!
Features
Buildable Type-52 Troop Carrier/Phantom
Heavily armed with 3 Plasma Turrets! Two on the side doors that rotate a FULL 360 Degrees, and a stationary one under the chin!
Side doors open up to store micro figures for transport and to allow troop deployment!
Includes a gravity lift in the bottom with translucent tube for troop deployment!
Includes Ultra Elite Pilot, 2 Ultra Grunts and introducing the NEW Silver Elite Arbiter!
Plasma Pistol, Five Plasma Grenades, and a Purple Energy Sword!
Building Information
The estimated time for build is between 40 minutes to 1 hour and 10 minutes. Age will vary time and skill of the builder. If pieces are missing from the set, Mega Bloks has a free replacement policy. Simply go online to their site and go to their replacement parts page. The Phantom is a MODERATE build, recommended for ages 8+. Children under the minimum age are in danger of choking on small pieces, and will have extreme trouble with building. The set has 906 pieces, and so far the instruction manual has not yet been released on the internet for public view.
These pictures show stages of building.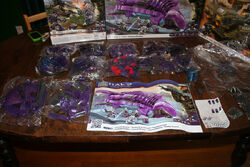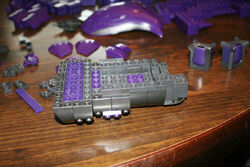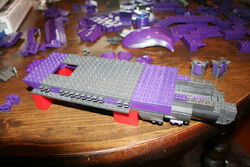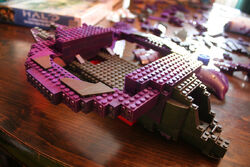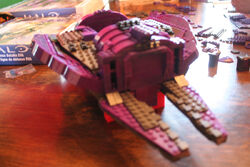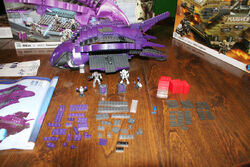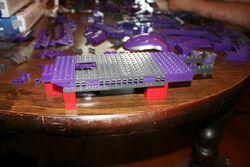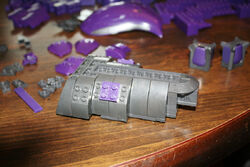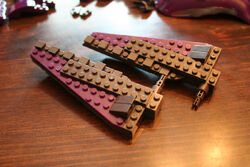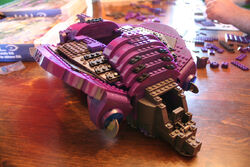 Video
Trivia
The Original Phantom was partially based of the design of the Halo 2 Design and had an almost Blue colouring.
It is one of the first sets to feature the Arbiter.
Photos
In Game Use