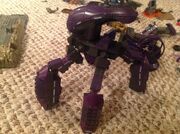 Locust



Sets

UNSC Gausshog Vs Covenant Locust
Versus: Covenant Locust Attack

The Locust is a walker used by the Covenant and was originally used as a mining vehicle along with the Scarab, the vehicle uses an extremely powerful energy beam effective against most structures and a heavy energy shield however if the shield is lowered the vehicle becomes fairly vulnerable to most attacks.
Trivia
Its first appearance was in Halo Wars.
It is useful for destroying buildings and is commonly nicknamed a "building killer" by Sergeant Forge.
It has an almost transparent, green energy shield to deflect incoming the projectiles.
The Locust itself was re-released in a set in late 2011.
Photos
---