---
AV-14 Attack VTOL



MSR Price

$24.99

Pieces

159

Mini-Figures

1 green Mark IV Spartan II
3 Grunt Minors

Weapons

1 Shotgun

Vehicles

Hornet

Item Number

96806

Release Year

2009
The AV-14 Hornet is a UNSC vehicle designed for air battles. It can be considered the UNSC equivalent of the Covenant Banshee. And like with the Banshee it is also a support vehicle. It can carry 2 soldiers into battle and has a heavy machine gun and missile launcher. Crew: 1 pilot & 2 passengers
Color Variants
Gray
Red (Target Exclusive)
Trivia
The red Hornet made several changes to the original design:

Railings for figures
Missile on the side of each wing.
Sliding door cockpit.
Sturdier overall construction.
The back wings can not move.
---
From Manufacturer
The Hornet is a Vertical Take-Off and Landing (VTOL) vehicle designed to provide close air support for UNSC troops. The Chaff Pod upgrade helps protect a Hornet against Anti-Aircraft Missiles. The Hornet set includes a UNSC Spartan and 3 Covenant Grunts.
For amazing reconnaissance action both in the air and on the ground, pair the Hornet with UNSC Warthog (96805).
Features
Popular Xbox 360 real-time strategy video game theme
Vertical Take-Off and Landing vehicle for anti-aircraft and infantry support
Special building blocks with new camouflage effect
---
Review Video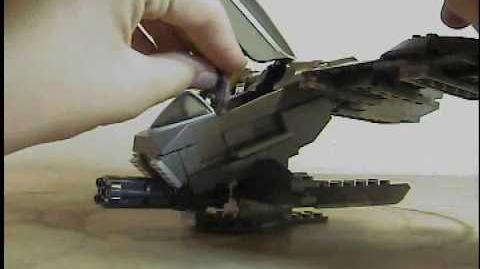 ---
In game picture

Community content is available under
CC-BY-SA
unless otherwise noted.