---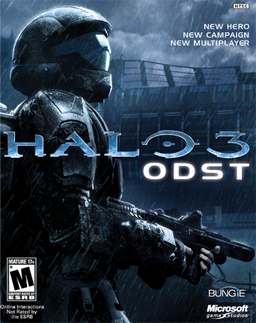 ---
This is a video game that inspired the
ODST
(Orbital Drop Shock Troopers) sets. It is a expansion to
Halo 3
and is built upon the Halo 3 game Engine.
Trivia
Only Halo game that is on the Xbox 360 that didn't have any add-ons.
Halo 3: ODST has 1000 gamescore and 47 achievements.
Has 30 audio logs all out through the game.
The first time you get to play in first person as an ODST (Orbital Drop Shock Trooper).
First Halo game to introduce Firefight mode.
---
In a July 2008 interview with MTV, Microsoft's head of Xbox business, Don Mattrick, stated that Bungie was working on a new Halo game for Microsoft, independent of other Halo projects. An announcement of the new Halo project was expected at the 2008 E3 game exposition, which Bungie stated "has been building for several months", but was delayed by their publisher Microsoft. The Halo announcement was to be part of Microsoft's 150-minute E3 presentation, and was cut to trim the presentation down to 90 minutes; Microsoft stated it wanted to give the game its own dedicated event. After the release of an ambiguous teaser trailer on September 25, the project was revealed as Halo 3: Recon, later changed to Halo 3: ODST. Set between the events of Halo 2 and Halo 3, players take control of elite soldiers called Orbital Drop Shock Troopers (ODST). The game was released on September 22, 2009.
---
END OF ARTICLE
---