M313 Heavy Recovery Vehicle



MSR Price

$99.99

Pieces

1,273

Mini-Figures

4 Halo: CE Marines
1 Halo Wars Era Marine
1 Black Recon Spartan

Weapons

2 Assault Rifles
2 Battle Rifles
1 Magnum
1 Halo 3 Flamethrower
1 Fusion Coil

Vehicles

Elephant
Mongoose

Item Number

96942

Release Year

2011
The halo Mega bloks elepahant appears to be based on the M313 from Halo 3. There has been a second type shown at toyfair 2014 which appears to be based on the one from Spartan Assault, although mega announced it as the Halo Wars elephant there are a number of differences which show its most likely the Spartan Assault Elephant.
From Manufacturer
Mega Bloks – Halo – UNSC Elephant Establish your army, build and expand your units with the Halo UNSC Elephant by Mega Bloks! The massive UNSC Elephant roars onto the battlefield as the ultimate mobile command center. A Recon Spartan, cloaked in stealthy black body armor, scouts the surrounding area on a stealthy black Mongoose, ensuring the Elephant finds the optimum position to deploy its forces—taking the fight to the Covenant.
Features
A working repair crane.
Manual deployment ramp.
2 LAAG Machine Guns.
New Black Recon Armor Spartan micro action figure.
Four UNSC Marines redesigned from the original with new armor and helmet.
One original UNSC Marine
A buildable black stealth UNSC Mongoose.
Weapons, including the Halo 3 Flamethrower
One Buildable Elephant
Weapon Crates
Photos
Trivia
This is the first set to feature a black figure.
This is the first set to have a Recon Spartan.
This is the first set to feature Halo: CE Marines.
Video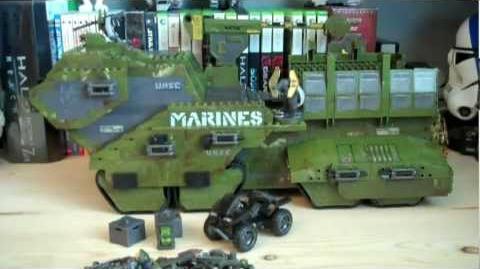 ---
Community content is available under
CC-BY-SA
unless otherwise noted.