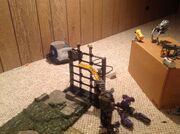 Coutdown



MSR Price

$99.99

Pieces

1241

Figures

1 copper Mark Vb Spartan-III
1 Officer
2 Technician
2 Marines

Weapons

1 Battle Rifle
2 Assault Rifles
3 Pistols

Vehicles

Sabre

Item Number

97017

Release Year

2012
Countdown is a 2012 set based off of the multiplayer map of the same name and the Sabre Launch Facility. It was the choice fans made at Halo Fest in 2011.
From Mega Brands Shop
Presenting the Halo Fest Fan Choice for 2011 – The UNSC Sabre!
The Countdown to epic space battles by Mega Bloks has begun! Launching from its gantry with multi-stage liftoff rockets, The UNSC Sabre is a powerful and versatile prototype spaceplane designed for orbital combat. The Sabre was used in the defense of Reach during Operation: UPPER CUT. The Sabre can go toe-to-toe with any Covenant fighter armed with a pair of Autocannons and twin Medusa Missile Pods.
Ideal for children ages 8 and up!
---
Community content is available under
CC-BY-SA
unless otherwise noted.