---
Battlescape



Price

$39.99

Pieces

80

Mini-Figures

1 orange CQB Spartan
1 Active Camo Brute
2 Grunt Majors

Weapons

1 Battle Rifle
1 Pistol
4 blue Plasma Grenades
1 active camouflage Spiker

Vehicles

Steel Mongoose

Item Number

96837

Release Year

2011
This is an newly released set. It Includes 2 landscape pieces one large with a bunker, one smaller that can act as a roof or to cover the steel part of the battlescape also includes a steel colored Mongoose that can drive into the bunker. Included with the set are an Orange CQB Spartan with Magnum and Battle Rifle, 2 red Grunts with 2 blue Plasma Grenades each, and a Active Camo Brute with an Active Camo Spiker. All of these figures and the steel Mongoose can only be obtained in this set.
From Manufacturer
Establish your army, build and expand your battles like never before with the Halo Battlescape playset by Mega Bloks! The Halo Battlescape lets you build iconic battles on authentic war torn terrain for realistic skirmishes like never before!
At the throttle of his UNSC Mongoose, the CQB Spartan rides over blasted dirt and rubble. But, unknown to him, two Grunts and an "Active Camo" Brute have prepared an ambush for the Spartan.
Made with interconnecting tiles to let you expand your scenario, you can join multiple Halo Battlescapes together to create even larger and more dynamic environments! Each Halo Battlescape includes durable pronged plates and two vehicle display rods to pose your forces however you want! Go inside the Outpost and open the roof to command firefights between enemy forces or go outside and declare all out war with UNSC and Covenant units!
Choose your side, build the battle and display the victor!
Ideal for children ages 8 and up!
Features
Buildable war-torn terrain inspired by the memorable environments of the Halo Universe!
Interconnecting tiles let you expand the Battlescape with other buildable terrains.
Pronged pieces and 2 vehicle display rods allow you to pose your buildable Halo vehicles.
Removable outpost roof can be attached to the Battlescape to create new terrain!
UNSC Forces: 1 UNSC Mongoose, 1 Orange CQB with Battle Rifle.
Covenant Forces: 1 Active Camo Brute with Spiker, and 2 Grunts with Plasma Grenades.
Trivia
This is the first set to feature an Active Camo Brute.
Video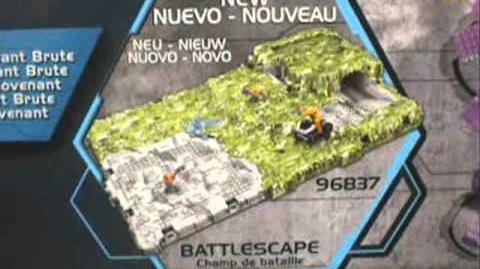 Photos
---
Community content is available under
CC-BY-SA
unless otherwise noted.